Corporates of every size and type are challenged by the time-consuming and cumbersome process of having to manage multiple trade finance financiers. The onerous task of logging into different banking portals and the inefficient manual communication across the entire trade finance ecosystem gives rise to unnecessary delays in supply chain, exposure to fraud and hampered revenue growth.
RIVO™ - our collaborative trade finance platform - is a digital hub through which any trade and supply chain finance instrument can be requested, monitored and secured to centralize and accelerate processing. This web-based portal provides open API access to every trade participant for a completely streamlined transaction process.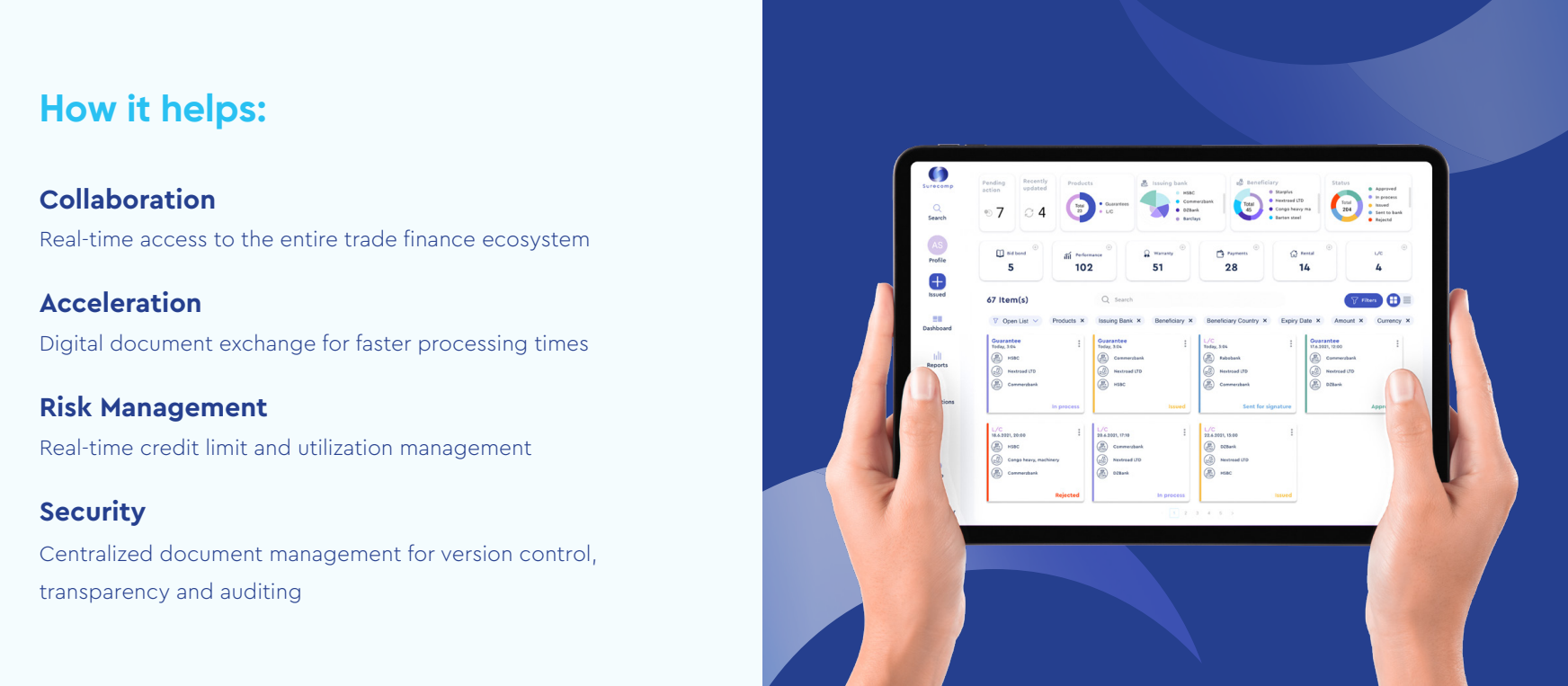 Available on demand, anytime, anywhere to anyone... just imagine.
A web-based platform accessed via an intuitive, user-friendly interface, RIVO™ is available in a range of subscription packages based on transaction volume. Fast and easy to navigate, the solution is designed to bring together importers, exporters, financiers, insurers, agencies and freight forwarders to efficiently collaborate on finalizing the details of a trade finance transaction in the most timely way.

By using the platform to execute trade finance requests, corporates can benefit from corresponding with every party through a single channel which saves time, improves efficiency and ultimately drives growth through the facilitation of increased trade transaction.
Key features and benefits
Collaborate
Collaborative management of documents; draft, issue, amend
Real-time advice and update notification between ecosystem parties
Centralized communication for ease of tracking and version control
Accelerate
Acceleration of trade finance transaction lifestyle processing
Electronic issue and exchange of MLETR-ready digital documents
Efficient and timely resolution of document requests, queries, approvals and rejections
Mitigate
Monitoring of limits and utilization to effectively manage credit facilities with lenders
Increased visibility of liquidity with payment plans
Guaranteed regulatory compliance and transparency
Here's a quick Welcome Tour to RIVO: