What is an Organization profile?
The Organization profile is also called the company profile of any kind of Organization(Corporates/Banks). The main purpose of an organizational profile is to provide a snapshot of the company's current state in order to help employees understand their roles in the organization.
Once the user successfully registered in RIVO after providing the registration details, he can view the Organization Profile information.
Go to the Administrator menu and then select the option Organization Profile.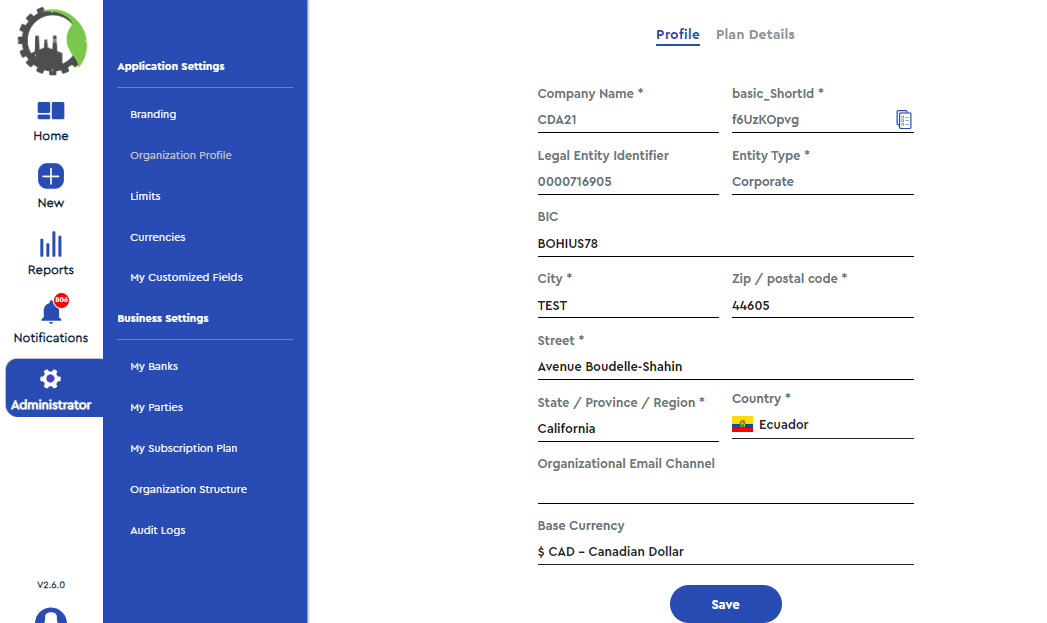 The following information's are displayed in the Organization profile,
Company Name - This field shows the Name of the Company.
Short ID - In order to add a party or bank to My Parties / My Banks, the counterparty can utilize that brief Id, which you can provide to other organizations. This will allow the counterparty to retrieve and populate your information.
Legal Entity Identifier - A reference code uniquely identify a legally distinct entity that engages in a financial transaction.
Entity type - Type of the entity either Bank or Corporate.
BIC - Used for addressing messages, routing business transactions, and identifying business parties
City - The town/city of the entity located.
Zip/postal code - Postal address of the entity.
Street - Street address of the entity.
State/ Province / Region - A particular area of a country where the entity is located.
Country - Please provide the Country location of the entity.
Organizational Email Channel - Please provide the Entity's Email address.
Base Currency - The base currency is the one that is typically used to quote exchange rates in a specific nation. (prompt messages in Organization Profile page will appear when there is a change in base currency and entry of conversion rate.)
The data displayed in the fields Company Name, Legal Entity Identifier and Entity type is auto picked from the User Registration page. The user will not be allowed to edit this field values. The remaining fields like City, Zip/postal code, Street, State/ Province / Region, Country, Organizational Email Channel are allowed to input with the values as this information's are not available in the registration page.
See also articles:
How to add the Organization users to the specific unit of the organization?
What is an Organization Structure in RIVO?