Applicant users of RIVO have the ability to set up Limits for the Banks that they have added.
This allows the corporate to manage how much business they do with each Bank/Financier.


When creating a Deal, the limit is used up and checked against.
If the limit is breached a validation error will be issued.


When the Deal is finally closed, then the amount is returned to the Limit.


A point to note:
This limit is set by the Corporate themselves, there is no data supplied by the Bank.
To set a Limit, first Add your Financier under the Administrator > Banks menu

Then in the Administrator > MyBank > Limits, you can see them.
Update the Credit Limit value, and when you use that Bank in a deal, the limit is reduced.
You also get a graphic showing how much of the limit is available

By choosing the date that is valid through the option, the user can also specify the validity of the limit for a certain period.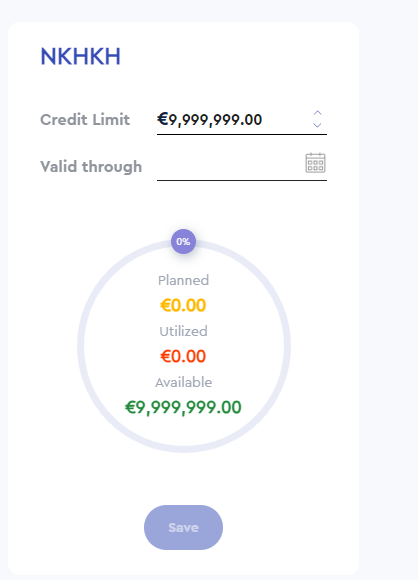 Planned: The user has the ability to tick the limit planning box during deal initialization; if checked, the limit will appear in the planned limit.

Utilized: The deal amount will appear in the utilized limit as soon as the corporation releases the contract.
Available: After deducting the planned and utilized limits, the available balance will appear in the available limit.
If you exceed the Available Limit, you will get an error whilst keying it :
Guarantee/LC amount has exceeded the bank's limit.