Contact the Rivo Support team in order to: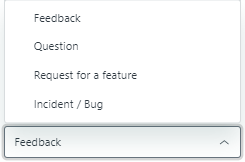 Feedback:
Use this option in order to provide a feedback about your experience with Rivo, it could be about the user interface / user experience, about the richness of a specific functionality, about the usability or even about the support and services provided to you.
Question:
Use this option to contact our support team for questions, do feel free to ask any question!
This could be about a specific functionality, a generic Trade Finance practice, an expected release date for a specific feature, or any other question comes to your mind.
Request a feature:
You have a chance to help make Rivo better by sharing your ideas for product improvements!
Please use this option to make an impact and submit your feature request, do tell us what do you think is missing, what problem should it solve, and what impact would it make having it available, we promise to read and analyze each feature request!
Incident / Bug:
Noticed something strange in the system's behavior? have you expected something to happen yet the results were different? please contact our support and report about the incident found.
To assure fast handling, please:
Include a detailed description of the issue, send screenshots, GIFs, or a short video
Tell us what the issue is about and describe the steps to reproduce it. Tell us what troubleshooting steps you tried.

If the issue happens with your unique data - include them

For example:

If the issue happens on a specific transaction (but not all of your transactions) - mention the reference number.
If the issue affects only specific users - list the email addresses of these users.
If the issue happens when working with a specific file - send us the file.

Specify your device, OS, and browser version

Provide your browser console or network logs (screenshots)