Once the collaboration is done we can save or resolve the open chat.
For Example.
While creating a Guarantee request - Applicant have a query on Beneficiary address.
Applicant opens up the Collaboration chat and requesting Beneficiary to cross check
the Beneficiary address. On seeing the Applicant's query, Beneficiary replies back
stating Address mentioned in the contract is Correct.
Here Query raised by applicant is resolved, intended purpose of the chat is done.
Hence open chat can be moved to resolved chat.
to do so:
In Collaborate page-> in Open Discussion chat box.
Click on the "tick" icon on right corner of the chat window.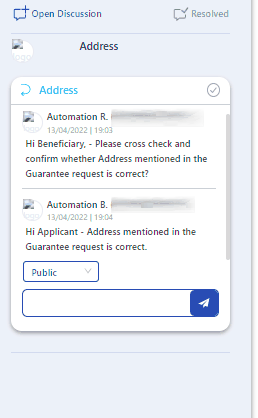 Note :
All the resolved Chat can be viewed/stored under Resolved header.
Resolved chat can be viewed throughout the Lifecyle of the transaction.