The Guarantee Application created is allowed to be edited with any changes before the Guarantee Issuance is approved by the Applicant.
To edit a Guarantee Application, go to the Landing page (Guarantee Status: Issuance-To Sign/In Process) and click on the Edit action from the actions drop-down.

Once the modifications are done, Please ensure to verify the details and/or attachments on the Review & Sign Page, tick the Sign check box and click the Save button.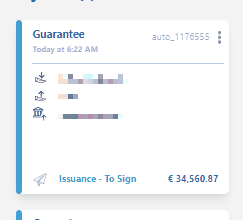 See more info on How to perform review & sign for Guarantee Issuance?