Start entering the Export LC details: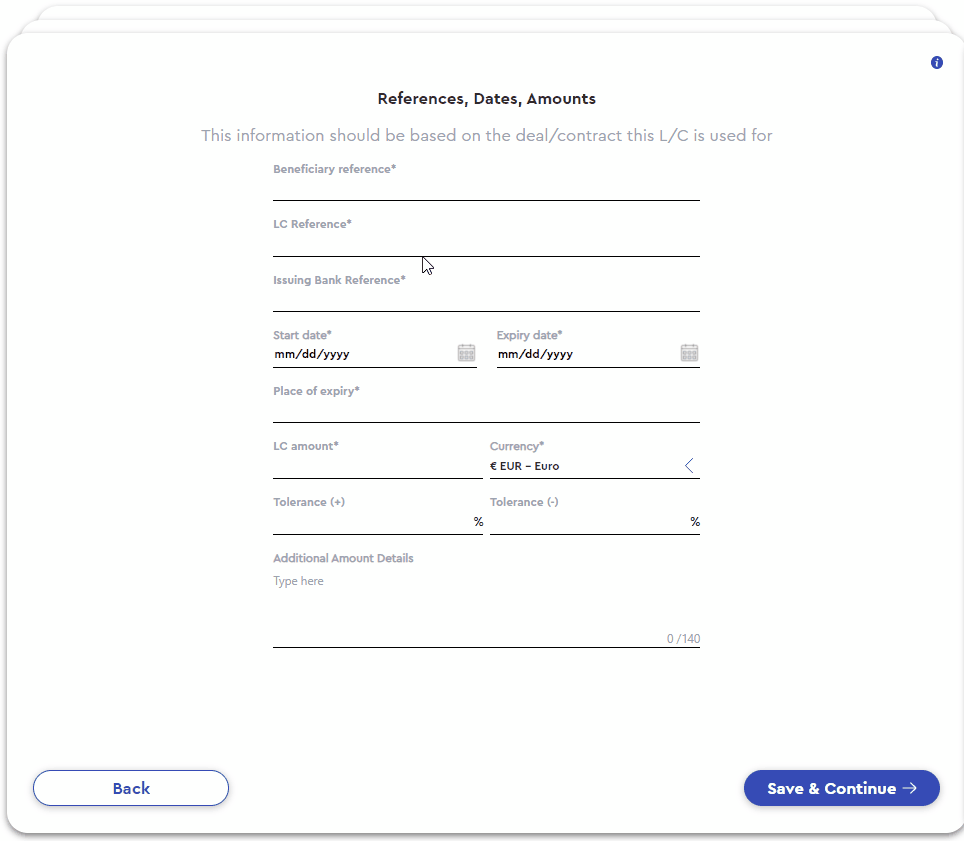 Enter your unique reference no. for this Export LC. It is be used during the entire Export LC lifecycle.
Enter the equally important Issuing Bank reference no. as it appears in the SWIFT field 20: Documentary Credit Number.
Enter the validity period of which is determined by the values in the:
Start date: Copy the date from SWIFT field 31: Date of Issue
Expiry date: Copy the date from SWIFT field 31D: Date and Place of Expiry
Place of Expiry: Copy the text from SWIFT field 31D after the expiry date.
The LC amount: Copy the amount from SWIFT field 32B, which also includes:
Currency: The bank advice may include the currency written in full or only the abbreviation. The RIVO dropdown list provided displays the currency symbol, abbreviation and a long name, for example: $ USD-US Dollar.
The LC amount may also have a Tolerance denominated in a + and a - percentage. When relevant, the tolerance is in SWIFT field 39A, where the first two digits refer to the + tolerance and the second 2 digits refer to the - tolerance.
If the SWIFT field 39C is populated, also enter also enter the Additional Amounts Covered details.
Once entered information for all fields, click 'Save & Continue' button on the right corner.