The Guarantee Types available on RIVO are:
Guarantee Selection
To choose the Guarantee Type
Click the Guarantee of your choice.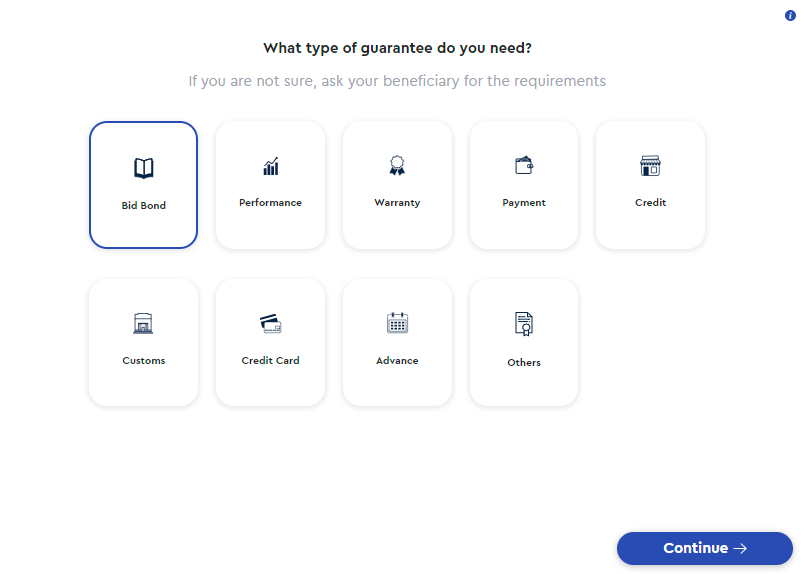 2. Click 'Continue' to go to next card.
Not sure which Guarantee to choose? see the details below:
Bid Bond
Bid bond is a bank guarantee by which a guarantor (the bank) undertakes to pay to a beneficiary certain amount of money if a tender participant (the guarantee principal) revokes its bid during the bidding process or refuses to conclude contract in accordance with conditions of the accepted tender.
Performance
A Performance Guarantee is a contractors promise to complete the project undertaken. To further elaborate, a Performance Guarantee is a document that legally confirms that you, the contractor will complete the contract you have undertaken.
Warranty
The manufacturer's written assurance to the customer who is purchasing the product that all of the product specifications and facts are true is defined as a warranty. This means that the product is well-made in terms of quality, fitness, performance, durability, and so on. If these facts do not satisfy you, the product will be repaired or replaced as needed within the warranty period. Companies offer warranties to instill trust in their products by demonstrating to customers that the company is confident in the product's quality.
Payment
Payment guarantees are financial commitments that require the debtor to make a repayment based on the terms outlined in the original debt agreement. Sometimes, the payment guarantee is backed with some form of collateral, such as property.
Credit
A credit guarantee scheme provides third-party credit risk mitigation to lenders through the absorption of a portion of the lender's losses on the loans made to SMEs in case of default, typically in return for a fee.
Customs
A customs guarantee is an agreement to cover debts arising from customs duty, import VAT and excise. If the debt has already arisen it is known as actual debt. If it arises later, it is known as potential debt. A customs guarantee is often required when duty is not paid at the time of import or export.
Credit Card
A credit card is a financial instrument issued by a bank with a predetermined limit that allows you to conduct cashless transactions. The credit limit is determined by the card issuer based on your credit score, credit history, and income
Advance
An advance payment guarantee or bond is typically used to underpin or guarantee the performance of a commercial contract, such as a contract for the sale of goods (where the buyer is the beneficiary) or a construction contract (where the employer is the beneficiary).
By selecting the "Other" option, Rivo will also allow you to add various types of guarantees besides those already mentioned.