Linking trade finance transactions can result in a more efficient, diverse, and accessible environment that benefits all parties involved.
Linking trade finance transactions can provide various advantages, including:
Reduced Risk: By connecting deals, trade financing companies can spread risk across a number of transactions, minimizing the effects of any one deal that doesn't work out. This may contribute to lowering trade finance's total risk and improving its value to businesses.
Enhanced Efficiency: By linking deals together, the time and expense involved in managing several transactions can be cut in half. This can make trade finance operations more accessible to a larger range of enterprises and help them run more efficiently overall.
How link deal functions in Rivo:
RIVO allows users (Corporates and Financiers) to link transactions that can be used while executing any business dealings.
Go to the "My deals" section on the home page, choose the transaction card you want to link, and then click the three dots to the card's upper right.

Once you select the link deals option, a selection of connections between the deals will be presented to you. These connections can be made by reference number, parent contract, or child contract
A linking reference number is used to link various trade finance transactions together, whereas a parent contract is a master agreement that specifies the terms and conditions for a number of related trade finance transactions, and a child contract is a particular trade finance transaction that is linked to a parent contract.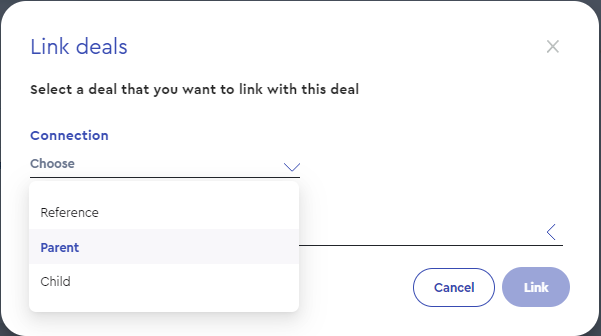 The last step is to select the Link to option and input the reference number of the contract you want to link with.

Once you have completed the steps outlined above, a pop-up message stating that the deals have been linked successfully will appear.